Main Content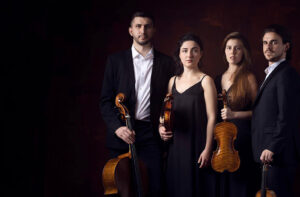 Kaisersaal, Theater Fauteuil Spalenberg 12 4051 Basel
No event found!
WHAT IS RHEIN KLASSIK?
Imagine a chamber music series which not only showcases the diversity of the musical community within Basel, but brings some of the latest talent together with the more established musicians, offering a platform upon which to build a reputation.
That is Rhein Klassik.
Foundation
Rhein Klassik was born out of the idea of supporting musicians during the COVID-19 pandemic, by organising concerts in venues across Basel.
Mission
Rhein Klassik now organises concerts for all musicians, helping freelancers and students establish themselves within the musical community.
what we offer
Everything you need to get involved with Rhein Klassik.
PERFORM
FIND ME A CONCERT
WANT TO PERFORM AS PART OF RHEIN KLASSIK?
PLAN
FIND ME AN ENSEMBLE
LOOKING FOR THE PERFECT MUSIC FOR A PRIVATE EVENT?
"The Rhein Klassik festival is a wonderful initiative. High quality musicians share dynamic and diverse programmes. I had a great time participating!"
Ines Morin
"This is the most enjoyable concert setting for me or any musician. Intimate, warm, liberating and good vibes only. "
Phoebe Lin
"Rhein Klassik is superbly organized, with excellent artists performing. It was a joy to play in one of Rhein Klassik concerts at Don Bosco Basel."
Anna Gebert 
"Rhein Klassik is a place where dedicated music making with friends brings opportunities for other freelance musicians. It was a joy for my colleagues and I to perform in a beautiful venue as a part this series, and to do it for a good cause."
Teodora Dimitrova 
"Rheinklassik gave me the platform to restart and connect with great musicians after the silent period of corona."
Orfeas Hiratos 
 "It was a fantastic experience performing for Rheinklassik with such an exciting mix of young and renowned musicians, definitely one of the most enjoyable moments of my career!"
Dominik Chamot
"Such a great initiative from Chris Jepson to have created this wonderful serie ! The few concerts I had the opportunity to play for Rhein Klassik were always a big pleasure to share music with the cello Quartet "
François Robin
"Mit dem Ensemble DeciBells hatten wir bei Rhein Klassik ein wundervolles Konzerterlebniss. Das Publikum war hell begeistert. Rhein Klassik ist eine ganz besondere Konzertreihe mit spannenden und reichaltigen Programmen!"
Domenico Melchiorre
"Rhein Klassik is an amazing series that gives the chance to freelance musicians to perform in the best conditions, and offers a great variety of high quality concerts…. one of the best musical initiative of the past years in Basel!"
VINCENT BRUNEL
Ethics:
Rhein Klassik was built on the idea of supporting musicians in need, with performers helping their fellow musicians.
Sustainability:
Donations make up the foundation of Rhein Klassik, ensuring we can re-invest into future concerts, continuing to help more musicians.
support Rhein Klassik
Rhein Klassik exists from the donations of foundations and kind individuals.
Please help us to sustain this initiative.